UPCOMING EVENT:
June 1st and 2nd, 2013, at the Stimpi Ridge Disc Golf Course
A PDGA C-tier Singles Tournament, two rounds of 18 on Saturday. One round of 18, plus a Showcase Final 9 for the Top Players, on Sunday. Maximum 72 Players. All Divisions offered. Must have at least 3 players for a division trophy. Call Steve @ 509-838-4331 for more information.
Would you like to sponsor this event?
_Current Sponsors Are_
Big Sky Brewing.com
Hill's Restaurant and Lounge.com
T-n-T Acres DGC
Jeremy John
Nancy Morgan
Thanks, to all the Sponsors. Check out their LINKS
______
Links (throwing tips, etc)
Welcome to Stimpi Ridge
Disc Golf Course and Pro Shop
Spokane's First and Best source for Disc Golf Equipment
Full disc selection from Innova, Discraft, DGA, Discmania, and many other brands.
Collector, Tournament, and Unique discs on display.
Free, professional help with chosing the right discs for YOU!
New Discs as low as $10, including tax.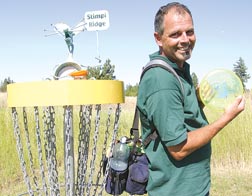 Best Prices in Spokane! The TAX is included in the already LOW prices, so, every disc and bag get an automatic 8.7% DISCOUNT!
The Pro Shop is open to the public, by appointment.
Please call (509) 838-4331 to visit the Pro Shop.
Latest Update: May 16th, 2013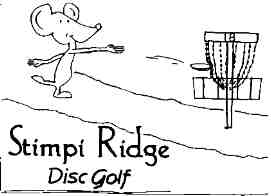 Have you ever played the Deer Creek Disc Golf Course?
Here's your chance. May 19th is the Deer Creek Open, a Charity event to benefit the 2nd Harvest Food Bank. Watch this space for more information.
________________
Monday evenings at 5:30pm. Monday, May 20th. Singles is the format. The Acepot has $53 in it. See you then, and every Monday following.
For more information call Stimpi @ 838-4331
+++++++++++++++
I'm very pleased to announce that, thanks to YOUR donations, Stimpi Ridge has joined the list of "FLY-18" courses, meaning we have all new RUBBER teepads from the Fly18 company.
Thanks Disc Golfers!
---

Stimpi Ridge Course is OPEN!

Please call 509-838-4331 to visit the Course or Pro Shop .

Thanks,

Stimpi Steve
Look for Discmania's NEW instructional videos on my LINKS page. They are GREAT!