Monday Weeklies are changing start time due to impending darkness.
Starting Monday, Sept. 1st, we'll start the Weekly at 5:30pm.
Doubles is the format, with $52 in the Acepot.
$10 buy-in. $8 paid out.
______________
We now carry Vibram Discs, as well as a full MVP line.
Come check'em out!
Links (throwing tips, etc)
Welcome to
Stimpi Ridge
Spokane's only
Disc Golf Course and Pro Shop
in one location.
Spokane's First and Best source for Disc Golf Equipment
We carry full disc selections from Innova, Discraft, DGA, Discmania, MVP, Vibram, Gateway Putters, and selections from many other brands.
Collector, Tournament, and Unique discs for sale and on display.
Free, professional help with chosing the right discs for YOU!
New Discs as low as $10, including tax.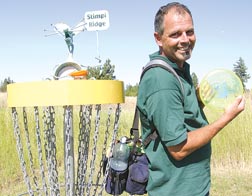 Best Prices in Spokane! The TAX is included in the already LOW prices, so, every disc and bag get an automatic 8.7% DISCOUNT!
The Pro Shop is Open by appointment.
Please call (509) 838-4331 to visit the Pro Shop.
Latest Update: August 27th, 2014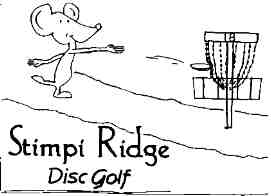 I'm delighted to announce the Second Annual
EPICO 2014
PDGA C-tier Event
Three private courses in one weekend. Stimpi Ridge, TNT Acres, and Happy Hill Disc Golf Courses, all within 1 hour of Spokane.
Sept. 13th and 14th, 2014
For more information call
Nancy Morgan @ 509-220-5406
or
Stimpi @ 838-4331
***********
Thanks.
+++++++++++++++
I'm very pleased to announce that, thanks to YOUR donations, Stimpi Ridge has joined the list of "FLY-18" courses, meaning we have all new RUBBER teepads from the Fly18 company.
Thanks Disc Golfers!
---

Stimpi Ridge Course is OPEN!

Please call 509-838-4331 to visit the Course or Pro Shop .

Thanks,

Stimpi Steve
Look for Discmania's NEW instructional videos on my LINKS page. They are GREAT!